Contact: nick (at) nickeipers (dot) com

I am a freelance recording engineer and producer, specializing in music. I am currently based in the Chicago area, and I'm available to work freelance almost anywhere. I have worked at Chicago Recording Company, Studiomedia Recording Company, Hinge Studios, Tranquility One Studios, Rax Trax Recording, Strobe Recording, IV Lab Studios, Gallery of Carpet Recording, Shantyville Recording Studio, Gravity Studios, Studiochicago, Star Trax Recording and Chicago Trax, as well as various remote locations and private studios. We choose the recording space based on the aesthetic and practical needs of your music.

I have worked with artists in many different styles of music, and approached these recordings in many different ways. No single situation or method works for every artist. Each artist is unique, as is their music. I work with artists to find the best way to make their albums. I am available as tracking or mixing engineer, mastering engineer, producer, any combination or all of the above.

I was fortunate to learn from some of the best engineers in the business, notably the legendary Malcolm Chisholm (Chess, Universal, Chuck Berry, Ahmad Jamal, etc), and Danny Leake (Tom Waits, Janet Jackson, Stevie Wonder, The Police). While I do, of course, have my own highly developed sense of aesthetic and time-tested methods of recording, my ultimate goal is to serve the aesthetic of each individual artist, and capture or accentuate what makes them unique. At the same time, I understand the importance of reaching a larger audience, and we will work together on achieving the desired balance of artistic and commercial impact.

Sometimes I do other things; from 2009 - 2010, I was engineer/producer for This Is Chicago Jazz with Mike Jeffers, a radio show on WNTD Avenue 950 in Chicago. We broadcast live on the air every week from the WNTD studios, and I often mixed live music performances during the show as well. We did live broadcasts from the 2010 Chicago Blues Fest. I occasionally mix front of house for live performances. Since 2000, I've been teaching a class or two in Audio Design & Production at Columbia College Chicago, Dept of Audio Arts & Acoustics. I've been a voting member of NARAS (The Grammy Awards) since 1993.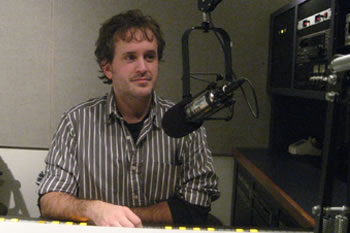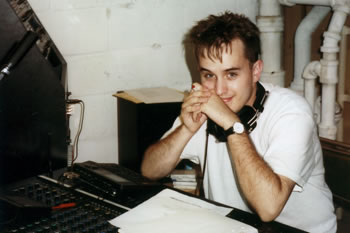 On the air at WNTD for "This Is Chicago Jazz with Mike Jeffers" in 2010 (left), and in my basement studio during college, The Subterranean Sanctuary, in 1991 (right)